The camping pillow you've been dreaming of
Here at Alton, we are all about sleeping wild. But, we got tired (pun intended) of waking up with a sore neck, low energy and bad mood. So, we made it our mission to create the perfect hiking pillow. Pairing high-performance materials with streamlined anatomical design, our Ultralight Camping Pillow gives you all the comfort you've been craving without compromising weight or packability.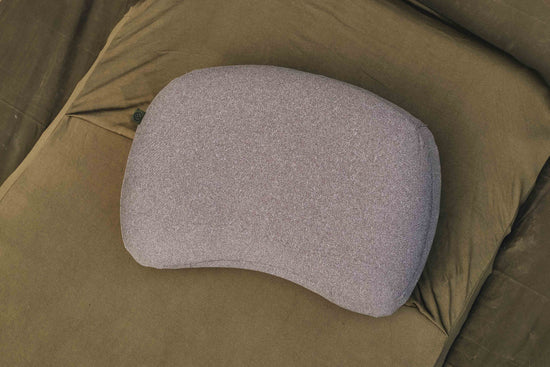 Wild camping just got a whole lot comfier
We have brought together our obsession for top-notch technical gear and our love of sleep (it's the best, right?) to create an entire camping sleep system that is a cut above. Our camping pillow pairs perfectly with our Insulated Sleeping Mat and our best-selling Sleeping Mat Fitted Sheet, which features a built-in pillowcase to keep your pillow in place. Now, that's what sweet dreams are made of!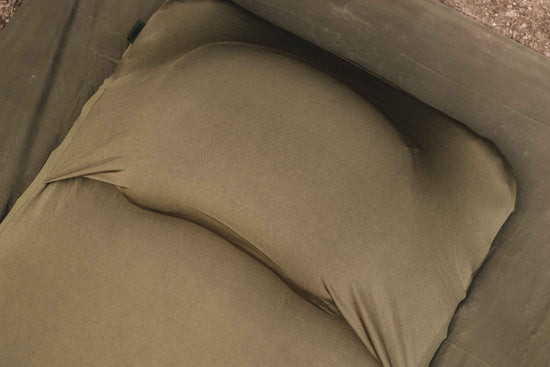 Camping pillows that make the wild feel like home
Our camp pillow might only be small (104g, to be precise), but it has the power to significantly improve sleep quality. With a dual-layer design and just the right amount of curve to cradle your head, you'll wake up refreshed and ready for anything. And, like every Alton product, our Ultralight Pillow is backed by a Lifetime Warranty* so you can rest easy knowing you're investing in gear that is made to last a lifetime.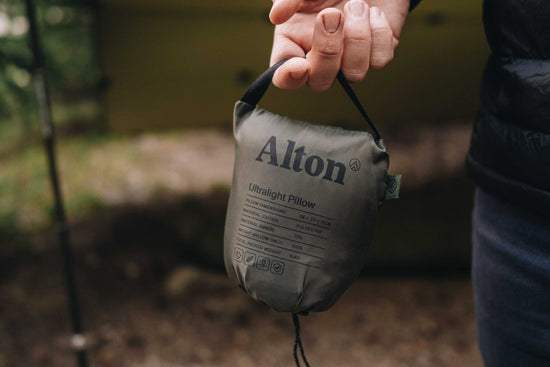 Some hardcore ultralight hikers claim a hiking pillow is an unnecessary addition to your outdoor gear list. Their main argument is that a pillow for camping takes up precious space and weight in your pack. Toughen up and use some bundled up clothes instead.

But, when you are pushing your limits in the wild, being well-slept is crucial. A good night's sleep aids muscle recovery, improves cognitive function and boosts your mood. It ensures that you are able to perform at your best, mentally and physically. For that reason, it is a crucial part of staying sharp and safe in unpredictable conditions. By increasing your comfort and neck support, a lightweight pillow for camping can dramatically improve the quality of your sleep.  

So, here at Alton, we think the benefits of a comfortable camping pillow outweigh the cons. And, the vast majority of hikers and adventurers agree with us!

When it comes to a pillow for camping, it needs to be just right. Soft, but not too squishy. Compact, but not too small. Well, we've created the "Goldilocks" of camping pillows. 

Our dual-layer design combines a soft synthetic fill and a puncture-resistant TPU inflatable chamber, giving you luxurious comfort without excess weight. In fact, the Alton Ultralight Camping Pillow only weighs 104g, so you won't even notice you are carrying it. And, with an anatomically contoured form that cradles your head and supports your neck, you can wake up feeling fresh for a big day outdoors. 

For the ultimate in wild sleeping comfort, we recommend pairing our camp pillow with our Sleeping Mat Fitted Sheet, which has a built-in pocket to hold your hiking pillow in place on your mat that also doubles as a pillowcase. If you are keen to optimise your comfort, check out our complete range of high-performance camping gear today.

All Alton gear is covered by our All Good Guarantee, a Lifetime Warranty* against all manufacturing defects. In the rare case that there is a problem with your product, we'll provide repairs or replace it. As long as you own your Alton product, you can rely on it to perform. 

Shop our best-selling outdoor gear online now and receive free shipping for orders over $100AUD within Australia and $150USD in the USA. Learn more about our global shipping and delivery information here.