Camping kitchen sets to fuel your adventures
Alton's recipe for the ultimate camp cooking gear is simple. Start with top-of-the-line materials, like premium titanium, certified food safe HDPE and top quality stainless steel. Stir in a meticulous design process that gives you all function, no fluff. Then, add rigorous real-world testing in collaboration with experienced bushcrafters, survivalists and hikers. Refine and repeat. Serve up camping cooking gear that is ready for a lifetime of adventure.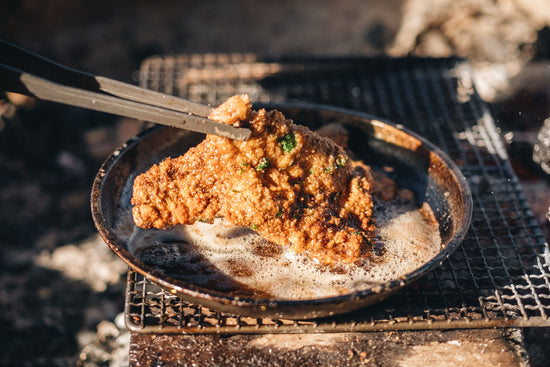 Camp cooking gear to last lifetime
Every item in our camping cooking gear range, from our best-selling Titanium Grill Set to our Double-Wall Titanium Mug, has been painstakingly designed for peak performance, no matter what conditions you are tackling. Offering impressive strength-to-weight ratios, campfire-approved designs and ultra-durable construction, our titanium cookware lets you streamline your kit and go further with less.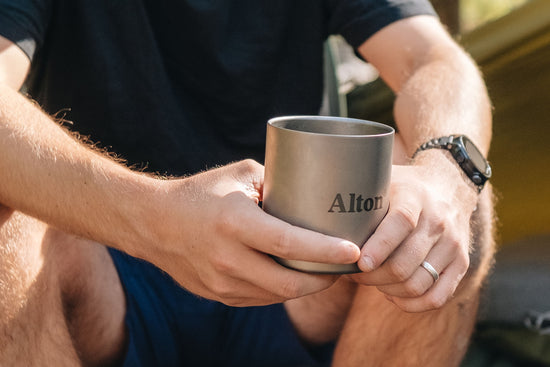 Savour the moment with our camping cooking gear
In the wild, away from the distractions of everyday life, the simple act of sharing and preparing food just feels different. A steaming hot coffee on a cold morning. The sizzle of food cooking over the fire. Sipping your favourite whisky under the stars while sharing stories with your mates. Backed by our All Good Guarantee, our best-selling titanium cooking gear gives you quality worth savouring.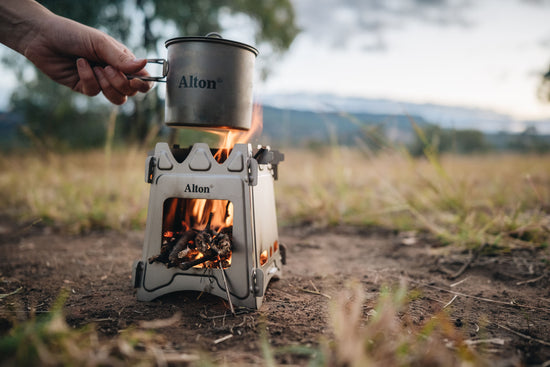 If you are hitting the trail on foot or by bike, you are going to want hiking cooking gear that is ultralight and durable. Titanium cookware is a great choice for this scenario, thanks to its unmatched strength-to-weight ratio. Our Ultralight Titanium Cutlery balances form with ultralight utility, pairing perfectly with our Ultralight Titanium Plate. And, on a frost morning, nothing beats our Titanium Single-Wall Mug for keeping your coffee warm.

Car camping or travelling with 4WD? You can get away with carrying extra weight and bulk. While some people prefer to utilise things from their home kitchen, we still opt for durable titanium dinnerware that is better suited to outdoor use. 

Whatever your adventure plans, don't forget the essentials like a stove and fuel, pots or pans, cooking and eating utensils and clean-up supplies. And, as always, consider how much weight you'll be carrying, how long you're going for, what food you'll be preparing and how many people you'll be feeding.

Titanium is ultralight yet virtually unbreakable and corrosion-resistant, so it will not easily rust or degrade over time. And, very importantly, titanium is non-reactive, meaning it is non-toxic and will not mix chemicals into your food. 

However, titanium cookware is usually more expensive than stainless steel or aluminium alternatives. It doesn't have the best heat distribution properties, which means hotspots can form when you chook, causing food to burn. You'll need to stir regularly and keep the heat relatively low to avoid this.

So, is titanium worth it? It depends on what you're planning to do. If weight and durability are not a big deal, then a titanium cookware set may not be necessary. On the other hand, if you want a camping cookware set that will last you a lifetime and offers the very best when it comes to weight, strength and durability, then titanium is 100% worth the price.

Another thing we love about titanium is that it is easy to clean and care for. A little effort will go a long way towards keeping your Alton titanium camping cooking gear in excellent condition for years. Here are the basics of caring for titanium camp kitchen gear: 

Hand-wash your titanium camp cookware after each use. Use warm soapy water and a soft sponge or cloth. Be sure to avoid abrasive scrubbers, which will scratch the surface of the titanium and cause damage.
Always thoroughly dry your titanium cookware and store it in a dry place. While titanium is corrosion-resistant, you should keep it dry and moisture free. 
Cook over medium to low heat to avoid overheating. Excessive heat or putting an empty pot over heat can cause warping, regardless of the cookware material. 

Looking for more cooking and titanium care tips? Our Campfire Cooking Field Guide has everything you need to know.

Our ethos of gear for life is not just a nice slogan – we back it 100%. All our gear is covered by a Lifetime Warranty,* our All Good Guarantee. As long as you own your Alton product, we'll ensure it is free from manufacturing defects and functioning as it should.  

Alton gear is available globally through our online store, with free standard shipping for all orders over $100AUD within Australia and $150USD in the USA. Click here for more information on shipping and delivery.