Hammock accessories that have got your back
Here at Alton, we know that the outdoor gear you take with you into the wild can give you an edge. That's why we refuse to compromise on quality. From using aircraft grade aluminium in our carabiners to straps that can support up to 300kg, everything we create utilises industry-leading materials. Whether you're on a multi-day adventure or relaxing by the ocean, our purpose-built hammock camping gear lets you make the most of every moment.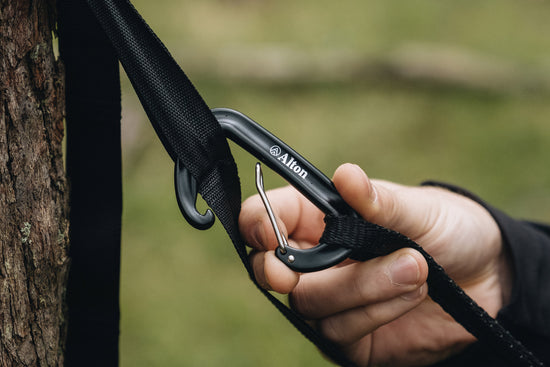 Experience hammock camping like never before
It's you, the ordinary person who is out there doing extraordinary things, who motivates us to keep striving for more. We put 110% into making technical outdoor gear that lets you meet the demands of the wild. Our hammock camping gear is no exception. Designed to be ultralight, easy to use, and unflinchingly dependable, our hammock camping sets give you the reliability and durability you deserve.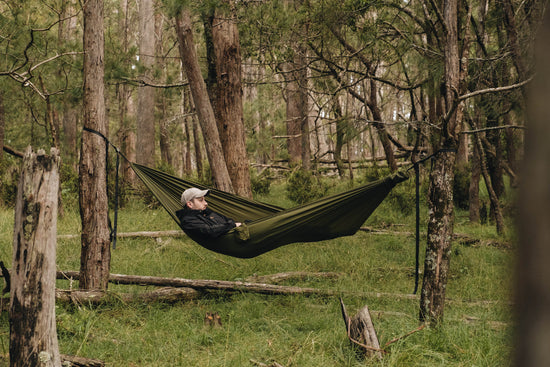 Take your hammock camping setup to new heights
From hammock straps to carabiners, our collection of high-quality hammock accessories will have your setup sorted in seconds. Each item in our hammock camping collection has undergone rigorous testing to guarantee its reliability and durability, allowing you to go further and push the boundaries of your outdoor experiences. And, with our All Good Guarantee covering the entire range, you can settle in, get comfortable, and embrace the freedom of sleeping wild.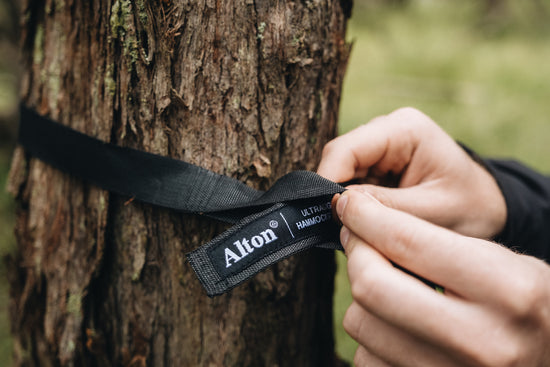 Here is our top recommended gear for hammock camping: 

Camping hammock 

The central component of hammock camping is, of course, the hammock itself. You want a durable yet lightweight hammock that is big enough to fit you comfortably. 

Suspension system

To hang your hammock, you'll need a suspension system. For efficient and safe setup, we recommend using fit-for-purpose hammock suspension straps, such as our Ultralight Hammock Straps and heavy duty carabiners, like our 12kn Ultralight Aluminium Carabiners. 

Tarp 

A tarp like the Alton 3m x 3m Ultralight Tarp is crucial for protecting you from wind and rain. Choose a lightweight but durable waterproof tarp that is large enough to give you coverage from the elements. 

Insect protection

Insect protection is essential, especially during warmer months or in bug-prone areas. A hammock mosquito net such as our Ultralight Hammock Bug Net can help keep mosquitoes, flies, and other pests at bay. 

Insulation

To stay warm and comfortable in your hammock, you'll need insulation such as a sleeping bag or top quilt. In cold conditions, the Ultralight Underquilt is purpose-built to prevent heat loss from beneath your hammock. 

This gear will be enough to get you started with hammock camping, but don't forget other camping essentials such as appropriate clothing, a camping stove, food and water. Check out our blog about hammock camping essentials to learn more.

Always prioritise safety and take your time to properly set up your camping hammock. Here are some essential safety tips:

Use the right gear

Invest in quality gear that is made specifically for hammock camping and has a strong enough weight capacity rating for your bodyweight.

Choose suitable anchor points 

Choose healthy, sturdy trees with a trunk diameter of at least 15 cm or more. If trees are not available, use other secure anchoring points like posts or boulders. Avoid hazards such as dead branches, sharp objects, or unstable ground. 

Hang at the right height

A good rule of thumb is to have your hammock just high enough to sit in with your knees bent to about 90º and feet resting flat on the ground. 

Double-check your work

Ensure that your suspension system is properly secured and tightened, and that your anchor points are holding firm. 

Repair or replace damaged gear

Take time to look over your hammock, suspension straps, carabiners, and other components for signs of wear, tear, or damage. Repair or replace anything that isn't up to scratch.

Here are some considerations to help you choose between taking a hammock or a tent for your next adventure: 

Hammock Camping 

Hammocks give you a suspended sleeping experience that many people find to be more comfortable than sleeping on the ground. They can be set up anywhere that you can find strong trees or similar anchor points, making them ideal for backcountry adventures. It takes a bit of time to learn the ropes of hammock camping, but this is a great opportunity to improve your outdoor expertise. 

Tent Camping

Tents provide an enclosed shelter that shields you from the elements. They give you more space, which is beneficial if you are camping as a couple, storing gear or just like to spread out. Most adventure destinations have allocated campsites for tents, however if you are heading off the beaten trail, it can be tough to find a flat surface to pitch your tent. 

All in all, we don't take sides when it comes to this particular debate – both options have their time and place to be enjoyed. 

We are committed to making gear that goes above and beyond. That's why everything we make is covered by our All Good Guarantee, a Lifetime Warranty* against manufacturing defects. In the rare case that your equipment does not perform as it should, we will replace or repair it. 

Alton gear is available globally through our online store, with free shipping for orders over $100AUD within Australia and $150USD in the USA. Learn more about our international shipping and delivery rates here.