Outdoor clothing made to outperform and outlast the rest
Since 2015, Alton has been committed to making best-selling outdoor equipment that exceeds all expectations. Now, we have applied the same unrelenting approach to developing our premium outdoor clothing collection. Featuring outdoor pants, camping shirts, hiking socks, a waterproof anorak and more, our camping clothes deliver the durability and comfort you need to push the limits of your performance on any adventure. We won't settle for average. Neither should you.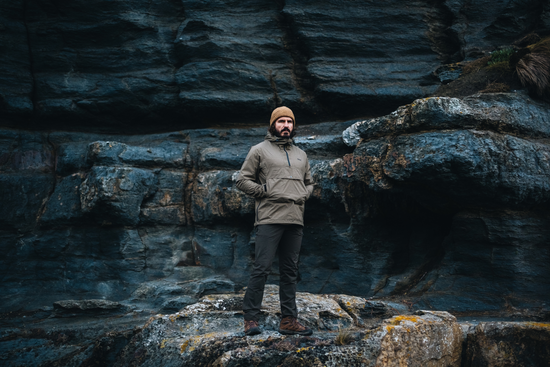 Our camping clothes put functionality, not fashion, first
Our range of outdoor apparel is made for adventurers who know that functionality comes first in the wild. That's why our award-winning team sourced the best quality materials that combine sustainability with advanced performance technology. Then, they strategically designed our outdoor clothing to enhance your performance, not restrict it. If you're looking for camping clothes that give you a perfect balance of comfort, functionality and durability, then you're in the right place.
Outdoor apparel with performance and sustainability in mind
We have partnered with bluesign® APPROVED manufacturers to implement industry-leading ethical, sustainable and safety practices at every stage of our outdoor clothing production process. In our quest to produce camping clothes that live up to the highest performance and sustainability standards, we created our own breathable-waterproof 3L shell-fabric, Nanopore™, that is made without toxic solvents. When it comes to sustainability, actions speak louder than words.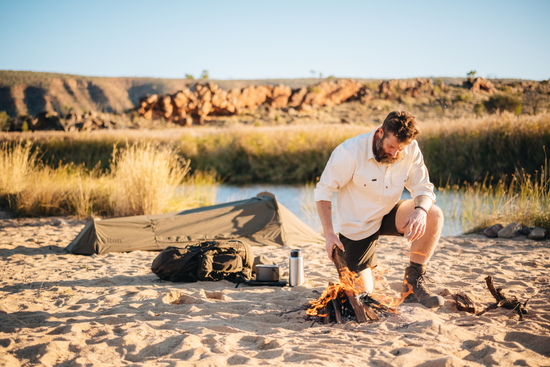 Camping clothes should prioritise functionality, comfort and adaptability. Although the specific clothing you need will vary depending on the season and conditions, here's some general advice on what to wear when camping:

Base Layer 

A base layer's primary function is moisture management and temperature regulation. Look for thermals or a camping shirt made from lightweight, breathable fabric that can wick sweat away from your body and dry quickly.

Mid-Layer

The mid-layer, sometimes also called the insulation layer, helps you retain heat by trapping air close to your body. This layer should be comfortable and easy to take on and off. A high-pile fleece jumper, down jacket or merino knit are all examples of a mid-layer. 

Outer Layer

An outer layer, sometimes called an outer shell, is your shield against the elements and should be windproof, waterproof and breathable. A high-quality outer layer, such as a waterproof anorak or rain jacket, is one of the most important items to have on any outdoor adventure. 

Footwear

You're going to need some sturdy shoes, such as hiking boots or trail-runners, along with some good-quality hiking socks. We can't go past a pair of midweight merino socks!

Accessories

Some other important outdoor clothing items you might want to bring camping include a hat for sun protection during the day, a warm beanie, gloves, and sunglasses.

The precise number of clothes you need to pack for a camping trip depends on two main factors: how long you are going for and how much you are willing to carry. If your pack weight is not an issue, you can pack as much (or as little) as you like. But, if you are carrying all that weight yourself, for example when hiking or bikepacking, then you'll want to try to only take exactly what you need – even if that means you might be wearing the same clothes for a few days (or weeks) in a row.

When you are choosing camping clothes, it is always best to opt for materials like merino wool, nylon and polyester that are specifically designed for outdoor use. These high-performance fabrics are moisture-wicking, quick-drying, durable and designed for comfort. On the other hand, these are a few materials that you should avoid wearing while camping:  

Cotton

Cotton is not your friend in the wild. It absorbs and holds water (whether it be rain, sweat, or other moisture), which can be dangerous in cold conditions as it lowers your body temperature and can lead to hypothermia. Additionally, cotton takes a long time to dry, is heavy when wet, and doesn't insulate well.

Denim 

If you want to be miserable on a long hike, wear denim. Like cotton, denim (which is made from cotton) absorbs water, dries slowly, and is very heavy. Wet denim is uncomfortable and can cause chafing. Not only is this painful, but it can put you at risk of developing an infection. 

Rayon

Rayon is lightweight but it doesn't wick moisture away from the skin. Instead, it absorbs it, making the fabric feel heavy and wet as you sweat. It also dries slowly, which isn't ideal for camping conditions.

It sure is! We understand that you need to be able to rely on your outdoor equipment to perform, especially when you are going further with less. That is why everything we make, including our outdoor apparel, is backed by our All Good Guarantee, a Lifetime Warranty* against manufacturing defects. 

Explore our best-selling camping equipment online today, with free shipping on orders above $100 AUD in Australia and $150 USD in the USA. For more information on our shipping options and delivery estimates, please click here.