Hammock camping, done the Alton way
Alton's Ultralight Camping Hammock combines industry-leading materials with intelligent design. Featuring low-stretch hexagonal-grip ripstop nylon, precipitation-hardened 7075 aluminium carabiners and a robust 300 kg weight tolerance, you can rest easy knowing you have rock-solid support beneath you. And, all of that at a packed weight of just 340g, so you won't have to worry about carrying unnecessary weight.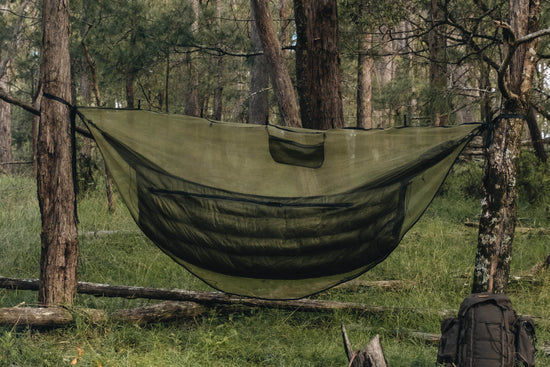 Redefine adventure with Alton's Camping Hammock
Collaborating with experienced hikers, bushcrafters and military personnel across Australia and beyond, we designed, tested and refined our camping hammock gear from the ground up. The resulting ultralight hiking hammock system delivers unparalleled strength, durability, and optimal sleeping comfort. Customise your setup to suit the conditions, or opt for one of our hammock camping sets, with everything you need to get started.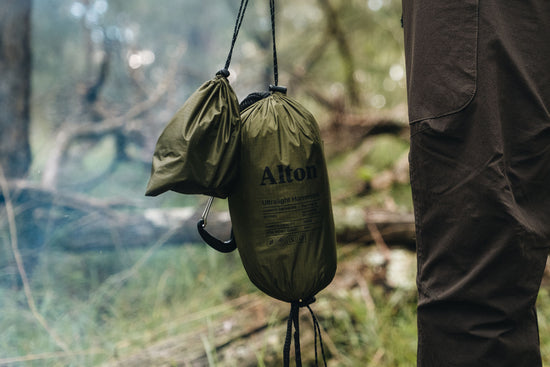 Hammock camping gear for elevated comfort
Whether you are setting out on a multi-day backcountry adventure or kicking it in the backyard, a camping hammock can elevate your experience (literally). Made to be ultralight, compact, durable and easy to use, our hammock camping gear is all covered by a Lifetime Warranty*, our All Good Guarantee. So, settle in, get comfortable and embrace the freedom of sleeping wild like never before.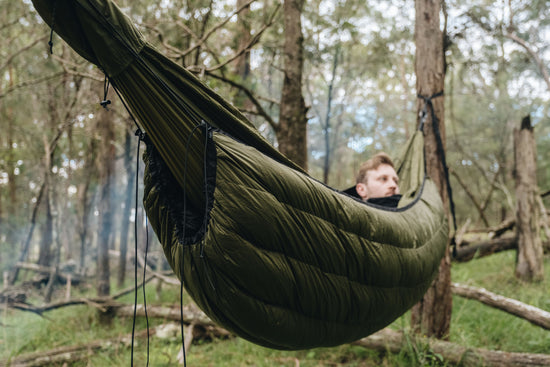 Here at Alton, we love hammock camping. But, just like everything in life, there are pros and cons to using a camping hammock as a shelter in the wild. Here is what you need to know:

Pros

Enhanced sleeping comfort compared to sleeping on the ground
Versatile campsite options as you aren't dependent on flat or even terrain 
Lightweight and compact
Optimal airflow and ventilation
Doubles as a comfortable place to sit or relax during the day

Cons

Dependant on finding suitable trees or anchor points
Limited space – there is no additional space for gear 
Initial learning curve to get used to the setup process
Requires different insulation strategies to stay warm in cold weather.

We've written a handy article on everything you need to know about hammock camping. Read it here to learn more!

Without adequate preparation, a hiking hammock can be colder than a tent for camping because air circulates freely around your body when you're suspended in a camping hammock, increasing heat loss. But there are ways to counter the cold and ensure you can stay warm and cosy in your hammock, whatever the weather.

Along with a top quilt or sleeping bag with the appropriate temperature rating, using a hammock underquilt, such as the Alton Ultralight Underquilt, can significantly reduce heat loss. Underquilts wrap around the outside of your hammock, providing essential insulation around and underneath you. Hammock underquilts are perfect for maximising warmth where you need them the most.

Another tactic to increase the thermal efficiency of your hammock camping gear includes using a sleeping mat in your hammock for extra insulation. As well as giving you an additional barrier between you and the cold air outside your hammock, sleeping mats also can enhance comfort by giving you a firmer base to sleep on. With some planning, you can enjoy hammock camping all year round.

Looking for top-quality hammock camping gear at a fair price? Shop Alton's entire range of technical outdoor gear online now.

Why not do both? Hammocks and tents are excellent ways to experience the outdoors and connect with nature. Depending on the conditions, one option might be better, but that doesn't mean you have to be exclusive!

Tents are the choice for hiking locations with minimal access to sturdy trees, such as in the desert or alpine environments. They are also fantastic if you want more storage space or extra privacy. A tent offers you more freedom to sleep comfortably while hiking with your partner.

On the other hand, you might opt for a hiking hammock for many reasons. Lightweight, compact and comfortable, camping hammocks can be used anywhere you can access trees or other suitable anchor points. Giving you both a comfy bed and a spot to relax at any time of day, hammocks can make spending time outside feel extra enjoyable.

Every Alton product is backed by our All Good Guarantee, a Lifetime Warranty* against manufacturing defects. We want you to be able to rely on your Alton gear to perform, even in tough conditions. In the rare case that it does not, we'll repair it or replace it for you. 

We offer global shipping on our best-selling camping gear, with free shipping for orders over $100AUD within Australia and $150USD in the USA. Shop Alton gear online now or read more about our global shipping and delivery rates here.