Sleep easy with Alton's hammock mosquito net
Our Ultralight Hammock Bug Net is a high-performance hammock mosquito net that gives you unrivalled insect protection without excess weight in your pack. The adjustable design allows you to use your hammock with mosquito net protection when you need it or leave it at home when you don't. For everything you need to get started with hammock camping, shop our full range of ultralight hammock sets online now.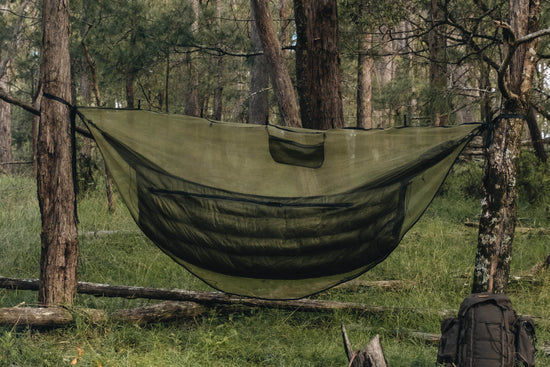 Fortify your hammock with mosquito net protection
Flies, mosquitos, ants – it's funny how insects always show up just when you start to relax. Our Hammock Bug Net lets you bug-proof any hammock with adequate, durable, lightweight mosquito net protection. Unlike camping hammocks with built-in nets, Alton's versatile hammock mosquito net fully encloses you to form an impenetrable insect-free zone. Check out our full range of industry-leading hammock camping gear online today.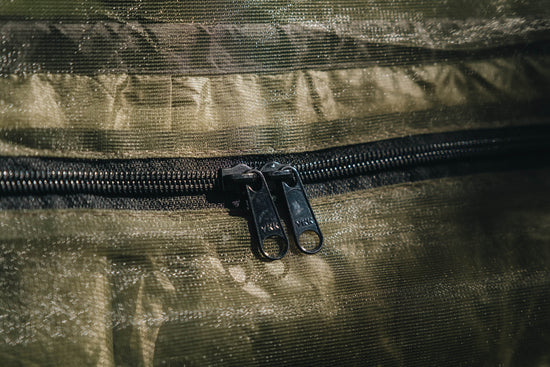 The hammock mosquito net you've been searching for
Keeping your hiking hammock bug free is easy with our Ultralight Hammock Bug Net. Tear-resistant micro mesh blocks even the smallest insects, while the intelligent suspension system maximises internal space for increased comfort. Backed by a Lifetime Warranty, this removable and fully adjustable design encloses your hammock to give you an impenetrable 360º barrier. Pair it with our Ultralight Hammock for unbeatable insect protection.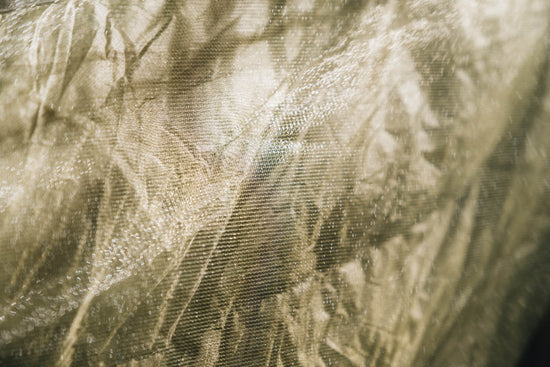 Picture this: you're out camping, lounging in your hammock, immersed in the natural beauty of the wild. But wait, Is that buzzing you hear? Did something bite you? Ouch, yep, that is definitely something biting you. Mosquitoes, flies, ants, spiders – whatever the pest, they can turn your peaceful night sleeping under the stars into a nightmare in no time.

If you are hammock camping in locations where insects are prevalent, then a hammock with mosquito net protection is vital. Forming a barrier around you, a hammock mosquito net like the Alton Ultralight Hammock Bug Net gives you a bug-free zone inside your hammock. Whether using your hammock for multi-day hikes, stealth camping, or just relaxing by the beach, it is worth investing in a hammock bug net to ensure that you can enjoy uninterrupted relaxation.

Unfortunately, yes, mosquitoes and some other insects may be able to bite you through the bottom of your camping hammock, depending on the thickness and composition of the material. A camping hammock does offer some protection against insect bites, but insects are known for exploiting any potential gaps or openings in the fabric of a hammock to reach their target. Likewise, anywhere the material of your hiking hammock is compressed against you, mosquitos and other bugs may be able to bite you.

To reduce the risk of mosquito bites or other pesky insects spoiling your camping trip, take steps to protect yourself, such as using insect repellent, wearing loose-fitting clothing and avoiding camping close to stagnant water. For complete protection, a hammock mosquito net that encloses your camping hammock will give you the best possible protection.

While a hammock with built-in mosquito net protection offers convenience and easy setup, this design has a significant downside. Depending on the thickness of the fabric, mosquitos and other insects may still be able to bite you through your camping hammock, as we mentioned before. That's why we recommend a removable hammock mosquito net. It might require additional setup time, but it is worth it. By fully enclosing your hammock, top to bottom, you get the most effective protection against insects and additional space to move around and get comfy.

You can count on it to perform as long as you own your Alton gear. That's why we created our All Good Guarantee, a Lifetime Warranty* against manufacturing defects. If your equipment is not performing as it should, we will replace or repair it.

Not in Australia? No worries! We offer international shipping on our best-selling camping gear, with free shipping for orders over $100AUD within Australia and $150USD in the USA. Shop Alton gear online now or you can learn more about our international shipping and delivery rates here.