Christmas has come and gone and we've survived to tell the tale.
After a couple of weeks spent recovering from the Christmas and Boxing Day madness of 2018, we are back, refreshed and ready for our biggest year yet! 
It's been a while so I thought I'd let you know what we've been up to. 
Product Photography 
If you've seen our website lately, you would have noticed some very crisp product photos. A massive thank you to Jimmy Jessup for reaching out after receiving one of our monthly email updates. The idea was all his and he absolutely delivered the goods! 
It's been a while so I thought I'd let you know what we've been up to.
How you can help: Do you offer services that could help our business grow? Please reach out and let us know.
Product Review  
Prominent bushcraft expert and YouTuber Scotty's Gone Walkabout released a new videothis week and he has again given Alton Goods a massive shoutout. This time he dropped a quick little review of our new Titanium Mugs. Watch his review here. 
How you can help:  Do you know any outdoor/adventure experts that might be interested in reviewing our products? 

The Word is Getting Out on Instagram 
After some big promotional efforts at the end of 2018 we have started to see our Titanium Mugs being put to the test by some rather insta-famous Australian adventurers. See some of this great new content from @saltydavenport and @wildroadwanderes below.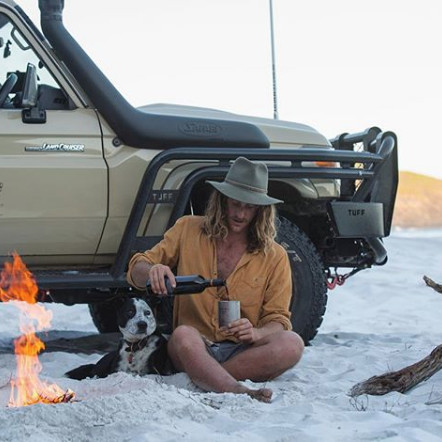 How you can help: Are you connected with any well-known instagrammers that might be interested in partnering with Alton Goods?
The Algorithm Has Been Hump Day Hacked!
What started out as an idea to promote engagement on our social media channels has fast become our most clicked content. We are continuing to receive an overwhelming response to our Hump Day Hack videos. Following a number of customer requests, we have now uploaded all of these clips to our YouTube channel and will continue to do so each week going forward. 

How you can help: Check out our new Hump Day Hack playlist here. Send it to any friends that might be interested. 
Australia Day Sale 
Alton Goods is proudly 100% Australian Owned and Operated. To celebrate the upcoming Australia Day Long Weekend we are offering a Buy One Get One 26% OFF offer on all stock (including sale items) for Australian Customers Only. 
Use the code LONGWEEKEND at checkout to get 26% OFF your second item. 
This offer will be available from today through to Australia Day (26th January).
How you can help: Get behind Australian businesses this Australia Day and #supportlocal!
Thanks for dropping by to say G'day. We are super pumped for the year ahead and have plenty of exciting plans that we can't wait to share with you.
Wishing you an adventurous New Year!
Talk soon.
Sam